Author Relaunch - Day 1
---
Yes, I am very late, but my other pen names already make most of my money, so I have to deal with them first! So, let's get started.
Strategy
My strategy, and this will change as I go along, is to have a free, unreleased book to giveaway for an email subscriber. The book I am giving away is Cold Pursuit. It's a psychological espionage short story. At this point it is only available from my email list (hint, if you want a copy, you can get it at: http://www.jongriffinauthor.com/get-your-free-book/ :) I also completely rewrote two other shorts that have been sitting on my hard drive for over a year. They were from my first experience at outsourcing and I have learned a little since then. I took the premise and rewrote them so that even though they are technically re-released, they are 90% new.
I am very familiar with Facebook ads and that was my first go to spot. One thing I don't know is how well the audience responds to this genre. I know romance audiences, but I found out quickly that things are much different for sci-fi/thriller/horror shorts. I created an ad and went wide with it. By wide I mean all ages, and all genders. This is a US based ad, but I may experiment with UK as well. One thing I noted was how difficult it is to find interests in these genres. Most of the authors can't be targeted in Facebook, and that left me with television shows (Twilight Zone) and Alfred Hitchcock. I added a few British authors (hence my maybe targeting the UK), and let it fly. I got my ass kicked. Well not really, but this isn't romance. 40 -60 cent clicks and a dismal CTR. I stopped the ads and thought about another strategy. There is no doubt that Facebook ads have become more expensive and need a lot of tweaking to get a decent ROI, but what about book promo sites? They have always been great sources of readers in romance, so I decided to try a couple that have worked well in the past, and weren't a ton of money. Also, these are new books and don't have reviews, besides being short reads. That limited the sites I could use. I decided to go with Betty Book Freak and Choosy Bookworm. They have been a good value for the cost in the past and they both take books that don't have reviews. The promotion will go live June 3, 2016 and I will report back. One other thing I also may do is go back to Facebook lead ads for a time just to build my email list. Generally, they cost too much, but I'm willing to spend 50 - 75 cents for a lead. Remember, I have no real email list so it may be worth a shot. I would never bother with my romance pen because I can get more bang for the buck with promoted posts. I have the audience down for that genre and I have a huge lookalike audience. I have none of that with my new books. Please let me know what you think of this case study and if you have any questions feel free to leave comments.
---
Shameless Plug
The two new books I released are: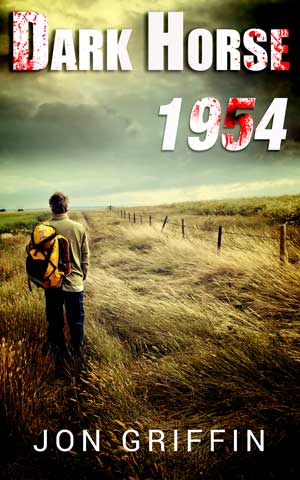 Dark Horse 1954 Demons, Fear, Resignation I used to lead a normal life… until I turned ten. Then they showed up. That night haunts me to this day. Now, at thirty-two years old, I leave some unknown town yet again. Then they do the unthinkable. Lucky for me I have an ally. Or do I? If you love supernatural suspense you'll love Dark Horse 1954. A haunting, supernatural suspense thriller short story by Jon Griffin.
Killer Instinct Murder, Bravado, Justice Allen Pierce is a serial killer, at least he was one. A murderer who never got caught. It's been over 3 years since he last killed. He's cured isn't he? Then a television series about serial killer chimpanzees comes on. He gets excited to kill again. Does he have the willpower to stay straight? Will he finally get his just rewards? Find out in Killer Instinct, a short horror thriller by Jon Griffin.
---